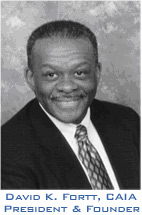 About The Founder

Before founding New Image Associates in 1995, David Fortt spent 15 years improving profits and performance for Fortune 500 companies. He served as a Senior Marketing Consultant for Equitable Life (became AXA Financial) and Executive Vice President of Vernon Publishing (became Financial Profiles). New Image Associates was founded with the mission to provide solutions for small businesses wanting to hire, develop, and retain top performers. This means we focus on understanding our clients from the standpoint of company culture and the people who deliver results.

Our experience includes providing our behavioral expertise to executives and multiple teams in insurance, manufacturing, architectural design and public safety. The broad range of results achieved in these niches includes stronger hires, more efficient teams, better leaders and higher profits.
Our staff remains relevant and current through a series of expanding and repeat certifications in the scientific tools and processes that are the core of our procedures.

David is an active member of ATD (American Talent Development) and is enrolled in the CoachVille Graduate School of Coaching.